a few books i read in 2006 that i can reccomend for some get-under-a-blanket-and-hibernate-winter-reading...
The Darling by Russell Banks
Warning: this book is very difficult to read because of some of the disturbing con
tent. This is a book about Liberia. I remember what I learned in school about Liberia - it was this wonderful land of freedom and liberation created by and for freed slaves in africa. The Darling reminds us that there were African people living in Liberia when the American freed slaves arrived, and shows clearly the legacy of colonialism on the modern poltical situation. The book follows the rise of
Charles Taylor
to power and the story of the fictional Hannah Musgrave, a member of the
Weather Underground
who has fled to West Africa and ends up marrying a Liberian.
Ecology of a Cracker Childhood by Janisse Ray
Growing up in southern Georgia with a junkyard next to her house, and the remains of a longleaf pine forest next to the junkyard, Ray appreciates the possibilities in both. She finds adventure and fun in the junkyard as a child. In the chapter, "How the Heart Opens," Ray writes, "For me, growing up among piles of scrap iron and glittering landmines or borken glass that scattered ivory scars across my body, among hordes of rubber tires that streaked my legs black, among pokeweed and locust, I attribute the opening of my heart to one clump of pitcher plants that still survives on the backside of my father's junkyard...The pitcher plant taught me to love rain, welcoming days of drizzle and sudden thundering downpours, drops trailing down its hoods and leaves, soaking the ground. In my fascination with pitcher plant, I learned to detest artificial bouquets of plastic and silk." This is a story of connection to place and home.
Embroideries by Marjane Satrapi
I love Marjane Satrapi! She is the author of Persepolis and Persepolis II, both
graphic novels
about her childhood and adolescence in Iran. The Persepolis books made me cry and I read them each in one sitting. Embroideries is
much
lighter than her other graphic novels; it's about the sex lives of Iranian women. Satrapi's art, prose, and storytelling are so compelling you won't feel guilty spending a few hours with a graphic novel/comic book.
Dragonsli
p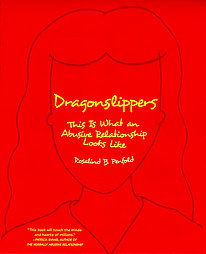 pers
by Rosalind Penfold
Another graphic novel! I am entranced by the form. This one is also autobiographical, and is written by a domestic violence survivor (Rosalind Penfold is a pen name) about her domestic violence situation. As someone who works in the domestic violence field, I was impressed with the way Penfold tells her own story in all its specificity but also speaks to the similarities in many domestic violence situations. I use this book when I educate around the topic of domestic violence because it is so real and impactful. Make sure you have a few hours ahead of you, and probably some tissues nearby before you start into this one. I highly recommend this book!